Archem Inc.
1-2-70 Konan Minato-ku,tokyo
108-0075,Japan
https://archem.inc/
On December 23, an interview with Satoru Kusano, Global CEO and Representative Director of Archem Inc.(headquarters in Minato-ku, Tokyo, Japan), was featured in the International Edition of Newsweek (published December 23, 2022), a major U.S. weekly magazine (headquarters in New York, USA).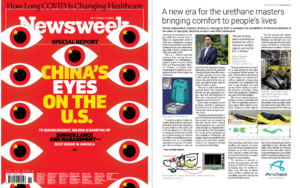 ◆What is Newsweek?
Founded in 1933, Newsweek is a major U.S. weekly magazine that covers all topics, including international culture, politics, economy and social affairs, providing the entire world with shrewd and unique perspectives that are not available on TV, newspapers, or online news. This magazine is currently published in print and electronically in 59 countries around the world, with a readership of approximately 46 million (including readers of the online edition).

◆Interview summary
Newsweek interviewed our Global CEO as the head of a highly skilled company dedicated to urethane. His interview is featured in a special feature article titled "Japan's hidden champions reign supreme."

In the interview, he shares his views on why Japan is competitive in niche and complex technological fields, and discusses our high-level technological capabilities, competitive advantages, and growth strategies to enhance our business in each area.
       ▼Interview with Newsweek


He had an interview in a friendly atmosphere, speaking seriously but occasionally smiling.
This interview is featured not only in Newsweek but also on the website of the Worldfolio.
■Click here for the entire special feature article in Newsweek (International Edition)
"Newsweek" International Edition

■Click here for the article on "the Worldfolio" website
https://www.theworldfolio.com/interviews/ex-bridgestone-subsidiary-archem-goes-solo-to-dominate-urethane-market/5520/