Chemical Products
Halogen-free flame retardant foam
Until now, flame-retardant soft polyurethane foams have mainly been made flame-retardant by using vinyl chloride and antimony combined together. In recent years, vinyl chloride and antimony have been taken up as environmentally hazardous substances by green procurement, and there is a growing trend to avoid the use of materials containing these substances.
In response to this trend, we have developed flame-retardant technology without using vinyl chloride, antimony and halides, which are expected to be banned as environmentally hazardous substances in the near future.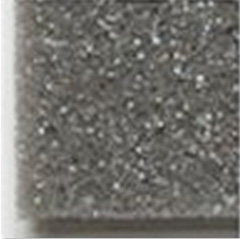 Main features
Complies with UL94 HF-1 without the use of environmentally hazardous substances such as vinyl chloride and halides, and achieves high flame retardant performance.
Compliant with the green procurement requirements of various companies, including those involved in light electrical appliances and automobiles.
physical properties
※Flame retardant properties.
There is a range of thicknesses that are compliant with MVSS, A-A and UL standards. For details on thickness, please inquire individually.
A-A standards have been passed by specific organisations, but we do not guarantee the performance.
Type
Apparent density
(kg/m3)
hardness(N)
flame resistance
Features and applications
MVSS
A-A
UL94
grade
DG
23
90
HF1
For light electrical appliances, OA and vehicle applications
Sound-absorbing and sealing materials
CG
28
100
HF1
VV
28
120
HF1
HBF
VO
35
100
HF1
HBF
STXC
55
200
HF1
HBF
Microcell UBT
65
0.2
HF1
Sealing materials for light electrical appliances and OA applications,
Space-saving thin cushioning materials,
Thin sound insulation and sound absorption materials
HF2