Archem (Thailand) Certified as a Green Industry Level 4 Company by Thailand's Ministry of Industry


Archem Inc.
1-2-70 Konan Minato-ku,tokyo
108-0075,Japan
https://archem.inc/
Archem (Thailand) Co., Ltd. (ACT), a production base of the Archem Group in Thailand, was certified as a Level 4*2 company at the Green Industry Award*1 hosted by Thailand's Ministry of Industry. The award came as recognition of Archem's contribution to sustainable industrial development through their ongoing environmentally friendly activities, including waste separation activities, energy-saving activities, promotion of the use of eco-bags, and CSR activities. At the award presentation ceremony held on July 27, 2023, Ms. Nattiya Netayasapa, Deputy Assistant Secretary of the Ministry, handed a certification trophy to Mr. Ayabe, President of ACT.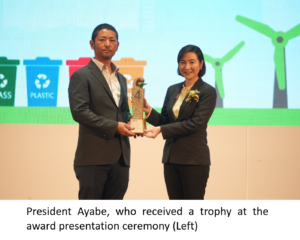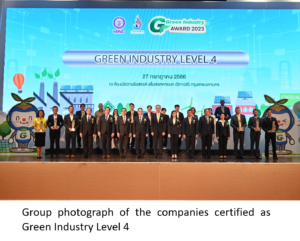 ACT will continue to implement additional environmentally friendly activities and contribute to achieving sustainable industrial development.
*1 A certification system established by Thailand's Ministry of Industry in 2011 for the purpose of achieving both domestic industrial development and
environment conservation.
Certification comprises five levels. Companies that are rated each level are given a green industrial mark for the relevant level. (Level 5 is the highest)
*2 In 2023, 122 companies were certified as Level 4.